W ramach odtrutki od wszelkiej maści MSMów postanowiłem Przemyśleć pewną kwestię – jaki jest najtwardszy pancerz w grach komputerowych?
Pierwsze, co przyszło mi do głowy to zbroje wykonane ze Smoczych Łusek – twarde, wytrzymałe i (niekiedy) odporne na magię, zupełnie jak Smoki. Ale nie – przecież do ich zabicie wystarczy wystarczająco mocny oręż – albo Wiedźmin. To może Pancerz Wspomagany X-01? No, w sumie… ale też nie – da się zabić osobę odzianą w ten pancerz… W takim razie jakaś tarcza energetyczna? Także nie.
Bowiem najtwardszym pancerzem w 99% gier jest – a raczej są – drewniane drzwi i meble. Zanim zaczniecie się śmiać spójrzcie na to z tej strony – Geralt z Rivii jest w stanie zabić dowolnego przeciwnika mieczem i Znakami. A drzwi czy nawet zwykłego krzesła nie ruszy niczym – nie spali ich Igni, nie rozbije ich Aardem ani nie rozwali mieczem. Podobnie Dragonborn – może i zabił Alduina, ale do otwarcia drzwi potrzebuje wytrychu zamiast rozwalić je w drzazgi toporem czy Fireballem. Nie wspominając, że o przesunięciu dowolnego drewnianego stołka o milimetr obaj mogą tylko pomarzyć.
Jasne, można powiedzieć, że to drewno magiczne, runiczne, artefaktyczne – nawet, jeśli znajdują się w drewnianej (i równie nietykalnej) chałupie  zwykłego chłopa. Okej. Ale co w takim razie z drewnianymi ozdobami w ruinach np. postapokaliptycznego Bostonu? Ich nawet mini bomba atomowa nie rusza.
Ba, podejrzewam, że nawet Spirit Bomb nie przebiłby się przez drzwi!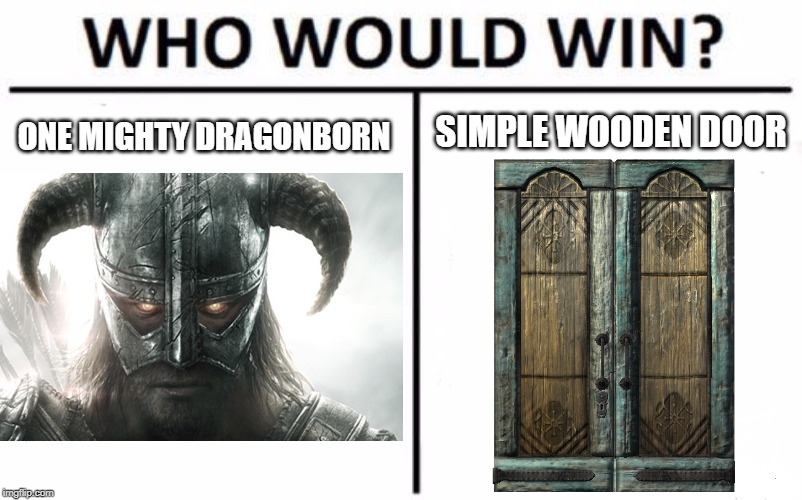 Zastanawiając się głębiej nad tym tematem doszedłem do wniosku, że w sumie to aż dziwne, że jeszcze w takim np. Dark Souls nikt nie wpadł na pomysł odziać bossa w drewniane atrybuty. No wiecie – zbroja z dwóch stołów, tarcza z drzwi, hełm z krzesła a jako broń – taboret. I już – boss doskonały, niemożliwy do pokonania żadnym sposobem.
Hmm… choć może to właśnie dlatego? Ostatecznie gracz musi mieć jakieś szanse na zwycięstwo, nie?